As United Methodists, we believe that giving is an act of gratitude and worship. It is an active expression of our faith.
Giving willingly, generously and cheerfully requires dedication, forethought and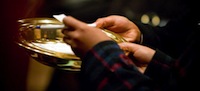 sacrifice. Through regular, or planned giving of tithes and offerings, we show ourselves to be faithful in the stewardship of all that God has provided for us. Giving cheerfully of spirit (2 Corinthians 9:7) does not flow from the amount of money you have. It flows from the amount of love you have received.
The operations and ministries of the church are supported by the regular giving and tithes of those who call First United Methodist Church their church home. Tithing is the biblical model of giving 10% of our income to the Lord (Malachi 3:10; Hebrews 7:5) and is an encouraged practice of our spiritual devotion as disciples of Jesus Christ. That being said, we understand the true standard of our giving not as meeting an obligatory percentage, but gladly sacrificing for the sake of the Gospel in partnership with God's work in and through the church. Beyond the tithe and regular giving, additional giving supports extended global and local missions, outreach and ministries of the church.
FREQUENTLY ASKED QUESTIONS
HOW CAN I GIVE?
There are several ways of making your financial contributions to the church safely and securely.
At Sunday services: Simply place cash or checks in the offering plate during the collection at any Sunday service. Be sure to include your name and address on the check or envelope, so that donation credit may be provided to you for tax purposes. If giving to any fund other than the general operations of the church, put the name of the fund in the memo line on your check or write it on the offering envelope.
By mail: Mail your check to First United Methodist Church, 1224 Legion Way SE, Olympia 98501. Be sure your name and address is on the check so that donation credit may be provided for tax purposes. If giving to any fund other than the general operations of the church, put the name of the fund in the memo line on your check.
Automatic Payment Plan (Bill Pay): This is an arrangement you can make with your personal bank, and in most cases easily done online. It provides a convenient way for a set dollar amount to be withdrawn (transferred) and sent from your bank directly to the church on a regular schedule of your choosing.
Online Giving: For your convenience FUMCO now offers the option of donating on-line to support the ministries of the church. You may use the button below for a one-time contribution, or to set up a recurring contribution on any schedule you choose. Contributions are processed on PayPal's© secure site, and can be charged to any major credit or debit card, or to your PayPal© account (if you have one).
HOW CAN I GIVE ONLINE?
Giving on-line is not only convenient but also secure. First Olympia utilizes well known and trusted PayPal© processing. PayPal© protects your financial information with industry-leading security and fraud prevention systems. When you use PayPal©, your financial information is not shared with the church. Once your payment is complete, you will be emailed a receipt from PayPal© for your transaction. (Click here to learn more or donate online)
HOW CAN I SET UP AN AUTOMATIC PAYMENT PLAN?
Having one's bank issue regularly scheduled payments to the church is an option many people have elected. It's easy to do, convenient and actually has some advantage over online giving.
CAN I MAKE NON-CASH CONTRIBUTIONS?
Yes. Many people find creative ways to make contributions to the ministries of First Olympia through non-cash gifts of stock, mutual funds or from charitable fund accounts. For stocks and mutual funds: You will receive a tax deduction for the fair market value of your securities at the time of donation, and you will pay no capital gains tax on the difference between your cost and the fair market value. Fill out the appropriate form below, send a copy to your broker to authorize the transfer, and send a copy to First Olympia letting us know how you want the funds applied.
CAN I GIVE FROM MY IRA?
If you are taking a Required Minimum Distribution (RMD) from an IRA account, you may contribute that directly to a charitable organization as a tax-free distribution. This enables you to satisfy IRA distribution requirements, support charitable causes, and receive a tax break all at the same time. As a result of the American Taxpayer Relief Act, taxpayers can take these qualified charitable distributions (QCD) throughout the 2013 tax year. For more information read an informational article by clicking on the link below, but be sure to consult an independent legal and/or tax advisor for specific advice about your individual situation. Do be aware that a contribution from an IRA distribution does not qualify as a charitable tax deduction.
DOES FIRST OLYMPIA HAVE AN ENDOWMENT FUND?
Absolutely! We have an active and viable Permanent Endowment Program covering four types of funds: the General Endowment, the Missions Endowment, the Property Endowment, and the possibility of a Designated Endowment. (Learn more)
CAN FIRST OLYMPIA HELP ME WITH MY ESTATE PLANNING OR PLANNED GIVING?
Yes, we can! Through our relationship with the United Methodist Foundation of the Northwest you have access to an amazing treasure of information, resources and even personal assistance in learning about, considering and setting up your Planned Giving program. Read the stories of others who have taken advantage of this resource and you'll surely be inspired. (Learn More)
WHERE DO MY DONATIONS TO FIRST OLYMPIA GO?
General Operating Fund (the primary account of the church): The donations of our pledged and regular giving to FUMCO support its General Operating Fund. This fund makes possible the day-to-day ministries and services of the church. Contributions made online go to this fund unless otherwise and clearly indicated. These are our "first fruit" gifts. "Second Mile" gifts beyond our "first fruit" gifts may be made to a number of other Designated Funds including the following: 
Benevolence Ministry Funds: FUMCO's ongoing ministry includes two strong emergency assistance programs that are funded independently from the operating budget. They are the Helping Hurts Fund and the Help Us Move In Fund. To designate your contribution to a either of these, simply indicate the name of the initiative on the memo line of your check or on the offering envelope.
Special Offerings: Periodically, opportunities to designate a donation to a specific ministry initiative become available. One Great Hour of Sharing, a FUMCO Mission Trip, and the Christmas Family Project are a few examples of ministry-initiative funds with specific start and end times. To designate your contribution to a specific fund, simply indicate the name of the initiative on the memo line of your check or on the offering envelope.
Our Endowment Funds: We have a very active and vital Endowment program comprised of three categories: The General Endowment Fund; the Mission Endowment; and the Property Endowment.
Trustees Fund: Separate from and not restricted by the parameters of the Endowment Properties Fund is the Trustees Fund. Monies in this fund are available for building maintenance and capital improvements. Financial gifts can be made through this fund for special projects. There are many improvement and maintenance projects our church property is in need of that are not able to be covered by the General Budget. Contact the Board of Trustees to find out what they are are how you might be able to help make them happen.
HOW DOES FIRST OLYMPIA UPHOLD FINANCIAL ACCOUNTABILITY?

FUMCO is committed to honoring God's provision by exercising wise and faithful stewardship, ethical business practices, and full accountability to ensure the financial integrity of FUMCO remains above reproach. We accomplish this through a system of internal controls and an internal budgeting and reporting process.
FUMCO's books and financial practices are audited annually and reported to our regional church conference.
Our funds and account activities are overseen by the church's Finance Committee and the Board of Trustees on a frequent and regular basis.
Anyone may request a copy of FUMCO's financial statements. Contact our church treasurer or church administrator for current details on our financial status and practices.
2 Corinthians 8:20-21 presents our understanding of the fiduciary responsibility we hold as the church:
"We want to avoid any criticism of the way we administer this liberal gift. For we are taking pains to do what is right, not only in the eyes of the Lord but also in the eyes of others."